Outdoor steps and walkways can provide a whole new living space for family and friends to enjoy.  When you look at your property, do you think of it as an extension of your home?  You should!  Instead of just imagining a rectangular deck off the back, imagine a variety of spaces, large and small, to entertain, escape, and enjoy!  Outdoor steps and pathways between these spaces can help you achieve entire new living spaces throughout your property.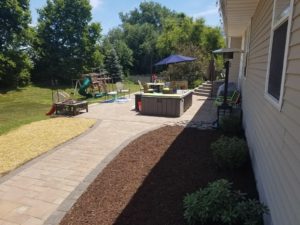 Walkways (pathways) and steps between paved areas of your property can create inviting places for specific uses.  Firepits, benches, hidden gazebos, she-sheds, and even just a quiet area with a garden swing can all be interconnected with safe, beautiful pathways and steps where needed.
Outdoor steps and walkways can connect different hardscaped areas of your property, much like rooms in your home.  If you look at your backyard and want to let your imagination run free, contact Al and the team at Herstad Landscaping today for a consultation to plan the outdoor living spaces you dream about!  Let's make this happen together.